The best dog food contains all the appropriate ingredients that are essential for a puppy's growth. It should be a great source of nutrition in a convenient single-serving container. For the best puppy food Walmart, after careful research, we were able to come up with a series of options that are best for your dog's growth.
They are specifically formulated for puppies with a recipe that supports strong bones. It is made only with easy-to-digest ingredients like chicken and peas.
It is majorly formulated for dogs under 25 pounds and free of preservatives. It is also made with ingredients that contribute to joint health that is free of artificial flavors, preservatives, and animal by-products.
Some of these dogs are best for specific things. There are puppy foods that are best for small dogs, best for allergies, best treats, best for large dogs, best grain-free, best wet and dry puppy foods.
Here are some of the best puppy foods at Walmart.

Finding the best dry food for your dog can surprisingly be a tricky task. It is harder than you think to get nutritious dog food that meets all your puppy's needs. A lot of them are made with meat, poultry by-products, artificial flavors, and colors alongside unhealthy preservatives. None of these are ideal for your puppy's diet or can positively contribute to the pup's growth. However, one of the best dry dog foods, based on research, is Rachael Ray's Nutrish brand.
She makes the best dog food with all the sufficient nutrients that are necessary for the dog's growth. The first ingredient is real chicken which is already a major plus. This brand of dog food also includes a variety of vegetables and added vitamins that are good for the puppy's growth. Also important is, it is free of artificial flavors and preservatives as well as by-products of any kind. This is no doubt why it has earned positive reviews from its customers who say it sends their dog into their "happy dance" every time.
The recipe is made for dogs of all sizes and consists of 26% protein, 14% fat, 4% fiber, and 10% moisture. The ingredients also feature natural prebiotics to aid with digestion, making it a good pick for dogs with sensitive stomachs.
The pick for best-wet food is actually dog food that does two things. It can either be used as a food topper with kibble to encourage picky eaters or serve as a meal by itself. It is, of course, made with real chicken, vegetables, and whole grains in a savory sauce. What makes this the obvious pick for best-wet food is that it is a great source of nutrition in a convenient single-serving container. This dog food is made up of 9% protein, 2% fat, 1.5% fiber, and 82% moisture and sold in packs of three.
When using it as a topper, it is important to take note that one can replace approximately ¼ cup of kibble.
Customers have only had good things to say when using Purina Beneful Medleys to get their choosy dogs excited about mealtime. If your dog is one that only wants to eat treats, this is one way to potentially reduce your stress overfeeding. Reviewers have also noted reduced gas and upset stomachs for dogs who struggle with digestion issues. So it has been known to affect several fronts in a dog's digestion issues.
For the best grain-free, Pure Balance Grain Free Salmon and Pea Recipe Food is one of the best and definitely our pick for this category.
True to the name, grain-free dog foods do away with the cereal grains commonly used in other types of dog food.
Since some dogs struggle to digest these ingredients, a grain-free diet is a simple way to go. This way, to get them the nutrition they need without the bits that result in upset stomachs or itchy skin, they need grain-free foods.
Pure Balance Grain-Free food is made with salmon as its first ingredient, while peas and carrots are added to deliver fiber and beta-carotene. Most importantly, the recipe is entirely free of corn, wheat, and soy.
Customers say they wish they'd discovered Pure Balance's grain-free puppy food Walmart earlier, noting that their dogs' coats are shinier, their stomachs are more settled, and their skin is itch-free. The food is high in protein at 24% and also consists of 15% fat, 5% fiber, and 10% moisture.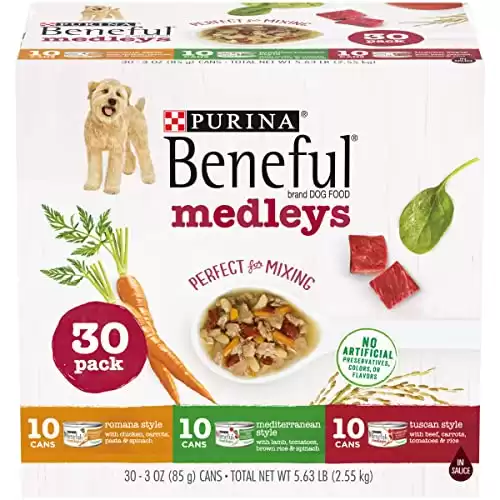 It is not unheard of for puppies to have different dietary needs from fully-grown dogs. Puppy food should be higher in calories than adult food to compensate for their higher energy levels and support tissue growth and development. Purina Puppy Chow is specifically formulated for puppies, with a recipe that supports strong bones and teeth while building muscle.
The food is 27% protein, 12% fat, 5% fiber, and 12% moisture. It includes all of the essential vitamins and minerals as well as DHA, an omega-3 fatty acid that aids with brain development in puppies.
Customers call Purina Puppy Chow "unbeatable," and they say that it provides the nutritional support for their dogs' needs as they grow. It also is fairly affordable and a very good option to go with. At their vet's recommendation, some puppy owners also use it with older dogs who need some extra help reaching a healthy weight. Think of it as the dog equivalent of Ensure.
Food allergies are no fun for your puppy and also you. It is important to pinpoint your pup's sensitivities to certain ingredients or processed foods. Most of these can result in ear infections for your puppy, stomach issues, uncomfortable skin, and itchy sensations. If you've noticed your dog suffering from these symptoms, try changing from his diet to skin sensitive and stomach recipe like the one we are recommending from Iams.
It is made only with easy-to-digest ingredients like chicken. This is the first ingredient here, followed by peas and beet pulp. It's also grain-free and does not include fillers like poultry by-products which is not good for your puppy's health. On top of the other things it does, it has a good texture. The texture of the food works to give your dog's teeth a scrub, and the inclusion of Omega 6 and 3 fatty acids helps to keep their coat shiny and their skin itch-free.
The food consists of 24% protein, 14% fat, 4% fiber, and 10% moisture. Reviewers say it's also great for gas issues and that they've successfully used it as a less expensive alternative to prescription dog food.
Small breeds (young puppies) have faster metabolisms than larger breeds, so it is important to take note of their dietary needs as they are slightly different from what larger puppies would require. As you would expect, they also do much better with small-bite foods they can easily chomp down.
Nature's Recipe small breed food is another grain-free dog food that is easy to digest. It offers the puppy a diet made with real chicken and nutrient-rich sweet potatoes. It is specially formulated for dogs under 25 pounds. One of the good aspects of this food is it is free of artificial flavors and preservatives and tiny enough for smaller mouths.
The food is 25% protein, 15% fat, 4% fiber, and 10% moisture, and also features minerals like copper and zinc to promote healthy skin and coat. Customers say Nature's Recipe small breed food is a winner even with picky eaters, with the added benefits of being both affordable and healthy.

Best for Large Dogs: Nutro Wholesome Essentials Adult Large Breed Dry Dog Food
How about something of interest for larger breeds? Much like earlier discussed, the dietary requirements for small puppies a different from that of bigger dogs. Big dogs need to be fed a diet that promotes strong muscles and healthy joints. This is major to help them in relieving some of the common issues they would experience as they grow. Our recommendation for this is Nutro Wholesome Essentials.
It is made with ingredients that serve as natural sources of glucosamine and chondroitin. These nutrients are major contributors to a dog's healthy joint. This brand of dog food also includes antioxidants like vitamin E that support the immune system. The first ingredient is chicken, and the recipe also has a combination of brown rice and sweet potato.
It majorly consists of 21% protein, 13% fat, 3.5% fiber, and 10% moisture; Nutro Wholesome Essentials offers a complete and healthy meal for large breeds. While it's on the expensive side, customers say the natural-ingredient recipe is ideal for their labs and Great Danes, who can experience bloat when they eat foods that aren't as protein-forward and feature additional fillers.
Best Puppy Food Walmart